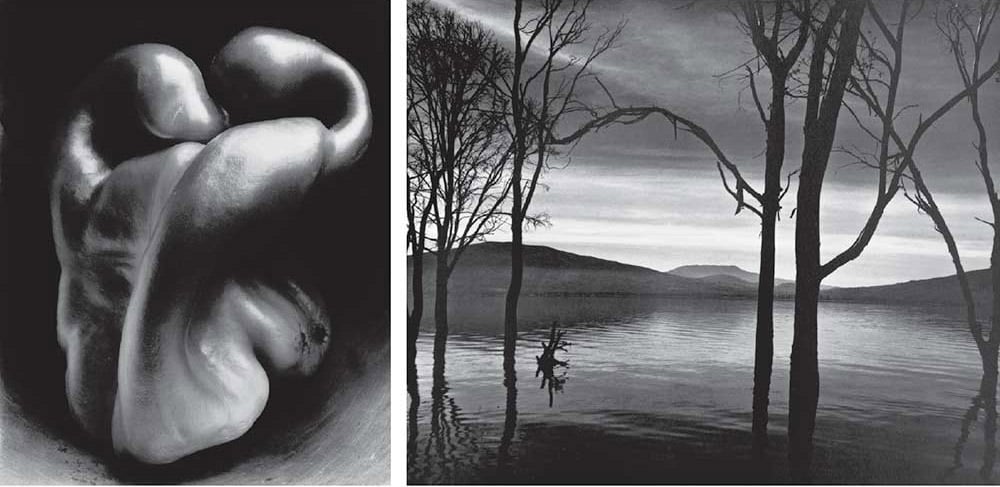 Some families pass down heirlooms. Others pass down first names. The Westons pass down photography – or rather, an eye for photography.
That's Weston as in Edward Weston, the acclaimed 20th century photographer. He, like his friend Ansel Adams, was famous for his crisp black and white images and a knack for transforming ordinary objects into sensuous mysteries. One of his most famous works is a photo of a pepper, gnarled and twisted as if shriveling into itself. The image is strikingly – or perturbingly – human. Another, a 1927 picture of a smooth and curvaceous shell, may well be described as erotic. "Nautilus," as it's called, sold in a New York auction for more than $1 million. His work ranged from still lifes to nudes, and many were taken in Point Lobos near his cabin, where his family still lives.
"Edward Weston's legacy cannot be underestimated," says photographer Huntington Witherill, who studied under Edward Weston's son, Brett, as well as Adams. "He, together with a few other photographers in this area, established what's known as the West Coast school of photography, which is known worldwide."
Three subsequent generations of Westons have carried on the master's photographic legacy, each traveling afield of Edward's work to cultivate their own unique styles. Now the work can be seen as one. An exhibit of four Weston photographers' black and white images will be shown at the Steinbeck Center from March 29 to May 31, along with the work of student winners of the annual Weston Scholarship.
The photographers featured are Edward Weston; Brett Weston; Kim Weston, son of Cole Weston (Brett's brother); and Zach Weston, Kim's son and a budding photographer.
"In one section of the exhibit, all four generations are put together," Kim says. "We mixed it up. That's pretty unusual. Galleries don't do that." read more at Monterey County Weekly
Last Updated on February 5, 2020
https://i0.wp.com/www.anseladams.com/wp-content/uploads/2014/03/pepper-weston.jpg?fit=534%2C663&ssl=1
663
534
rfclient
http://www.anseladams.com/wp-content/uploads/2020/01/Ansel-Adams-Gallery-Logo-1.png
rfclient
2014-03-28 22:51:45
2020-02-05 05:18:24
Four generations of Weston photography hit the National Steinbeck Center